At RealtyCandy, we had a lot of clients who wanted features and customizations that were not part of the IDX Broker
software.
Originally, most of these "IDXAddons" were built as WordPress plugins. Some of the features
like our Client Leads, Text Alerts for agents, Social Logins, have been integrated into the IDX
Broker admin dashboard or into the Impress WordPress plugin.
In the last few years, we have shifted gears to build software that is "platform agnostic". We
have focused on building widgets that can be added to WIX, SquareSpace, Webflow,
WordPress or really any web platform.
We have built software for our real estate clients that allows them to get even more benefit from
the IDX Broker ecosystem. This software is now available in two presentations:
1. IDXAddons.com Premium – for RealtyCandy clients for free and for other IDX Broker
users for $249 per year.
2. IDXAddons.com Lite – available for all IDX Broker clients no matter who their developer
is, or if they don't use a developer partner.
IDXAddons Premium includes a very robust feature set.
IDXAddons Lite is a basic feature set that is available for FREE to all users of IDX Broker.
IDXAddons.com includes:
Community Data Graphs
Google Map Widget
Agent Information and Photo Widget for Details Pages
Auto-saved Searches
Custom IDX Broker Forms
Daily Returning Visitor Emails
Fallback Widget – when your widget doesn't have any results
Featured Listings Fallback – when you don't have any current active listings
IDX Broker leads to MailChimp
Omnisearch Bar Generator
Saved Link Creator
Saved Link to Widget
Shared Searches
Social Media Image Creator
Speedy IDX Widgets
Text Alerts for Agents – Returning Visitors
Text Alerts for Leads – New Listings
PureIDX Website – Free JAMstack site designed for IDX Broker
Community Data Graphs
The Data Graph widget displays community information, showcasing the details of those
communities in an easy-to-understand graph: average listing prices, amount of listings,
and more can be displayed in this attractive widget!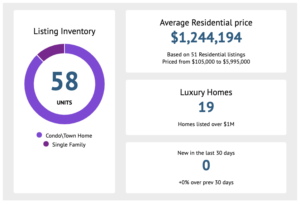 Google Map Widget
Add your own Google map in your website. This will allow users to search properties
based on the map coordinates and they will be able to easily find what they're looking for
within your listings.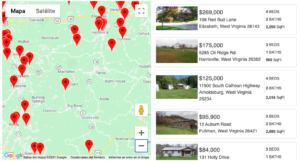 Agent Information and Photo Widget for Details Pages
Create your own contact information and even let you include a profile picture! You can
quickly load this into the subheader of any details page. Auto-integration with
RealtyCandy Details templates.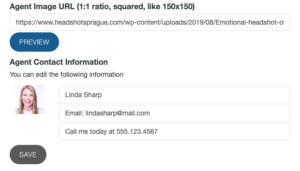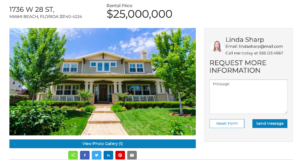 Auto-saved Searches
Auto Saved Searches help you retain your real estate leads. The tool uses AI to create a
new saved search for each lead you get through IDX Broker pages. The search is
created automatically based on the properties that a client was looking at when they
created their account.
Custom IDX Broker Forms
By using this widget, you'll receive an email with the submitted data of the registered
lead, so you can verify and update it in IDX Broker and get in touch. We'll also add the
information in the lead's notes. If a new lead signs up, their information will be registered
directly in IDX Broker.
The Contact Form widget will allow you to have more than one form in the same page.
These forms can be loaded on your WIX, SquareSpace, Webflow, or WordPress
website.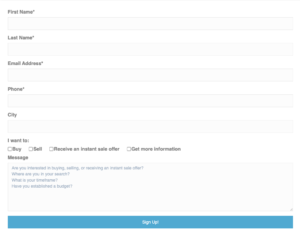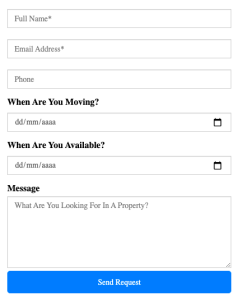 Daily Returning Visitor Emails
You can receive an email (sent daily) listing all of the new and returning visitors of the
day at once.

Fallback Widget
If there are no listings available in your widget, it will be replaced with the fallback widget.

Featured Listings Fallback
This is just like the Fallback widget but for specific agent's listings. If the agent doesn't
have any active listings, you can show the listings from another widget, automatically.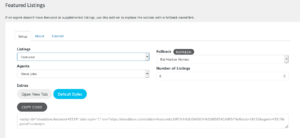 IDX Broker leads to MailChimp
IDX to Mailchimp is a very simple add-on, it exports leads from IDX to Mailchimp so that
you can access them from both platforms. To use the IDX to MailChimp generate an API
key from mailchimp.com, type into the bar that says "Please enter the API Key". Click on
the save button and you're done!
Once it's set up, it will auto update. All new IDX leads will go to MailChimp.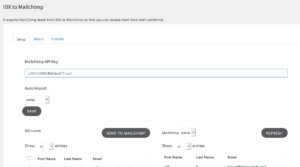 Omnisearch Bar Generator
This IDX Add-on helps you make your own search bar for your website. With the
Omnisearch Generator you can customize the bar by choosing which filters you want to
add. This will allow users to search properties based on specific criteria they decide and
they will be able to easily find what they're looking for within your listings.
When you're creating your search bar, you can choose to show or hide certain fields,
such as number of beds, baths, property types available, as well as the option for links to
open in a new tab. These fields will be the same ones that users will have the option to
search by. The Omnisearch Generator makes searching for new properties on your
website really simple.
There is an option to have "Buy", "Sell", and "Rent" tabs.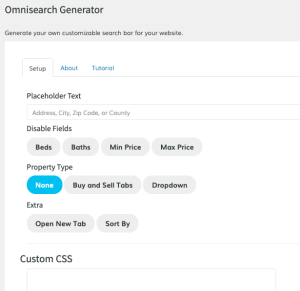 Saved Link Creator
Create saved searches for more SEO from your IDX Broker pages.
Our new Saved Link Creator allows you to make saved searches just like this with
multiple search criteria like price ranges, features and cities in just a few seconds.
This used to be a process that would take up the whole weekend or at least a few
evenings. Now you can make it in a few minutes.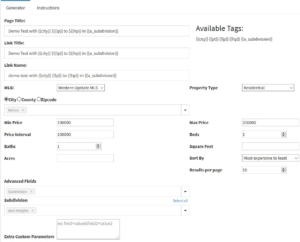 Saved Link to Widget
Use this app to turn any of your saved links into a widget for you to showcase on your
website. With this add-on you don't have to make the saved link AND a widget. You can
just make the saved link and use it, then quickly add the widget to a page on your site.
These have some secret sauce to make the images and the widget load blazingly fast on
your website.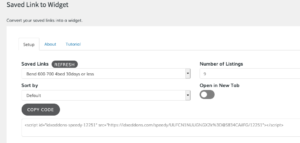 Shared Searches
Create a Saved Link/Search in your IDX Broker account, for example "Shared homes in
Miami between 250k and 300k" and then you can share it with as many of your IDX
Broker clients as you want.
You don't need to make a saved search for each client individually. If you have any
number of clients in your CRM, or similar program and want to bring them over to IDX
and set up a saved search for each one, you can use this app to do this faster.
This add-on is a great way to quickly send information out to your clients and make sure
they receive property updates that match the type of homes they're looking for.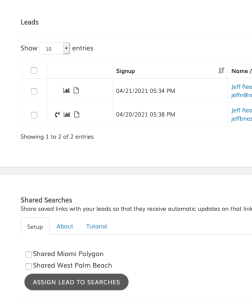 Social Media Image Creator
Create Featured Listings images and share them in your social networks.
With the Social Media Image Creator app it's really easy because it retrieves all the
information from your listings from IDX Broker for you!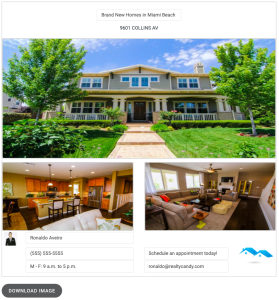 Speedy IDX Widgets
The Speedy IDX Widget significantly reduces the sizes of image files on widgets so that
they load much faster, without affecting image quality.
One benefit of using the Speedy IDX Widget is that it will increase the probability of
clients staying on your website and continue browsing, which improves your SEO
results. Remember that Google puts a high value on websites that load fast. When
images are slow to load, visitors are likely to become impatient and leave your website.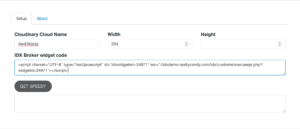 Text Alerts for Agents – Returning Visitors
You'll get a text message every time a visitor signs up to your site or a visitor who's
made an account return.

Text Alerts for Leads – New Listings
Send text alerts to your leads when a property price has changed or a new property is
available.
Send daily or hourly text alerts to your leads when a property price has changed or a
new property is available in their Saved Searches.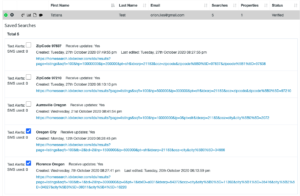 If you have questions about any of these addons then feel free to contact Realty Candy.